COURSES
2022
| | |
| --- | --- |
| STRENGTH AND CONDITIONING EXERCISE PRESCRIPTION BUNDLE PACKAGE | |
Heath Williams and Jarrod Testa
Delivery method: Entirely Online
BUY HERE
CPD hours: 10.5 • cost: $395 AUD (approx.£210)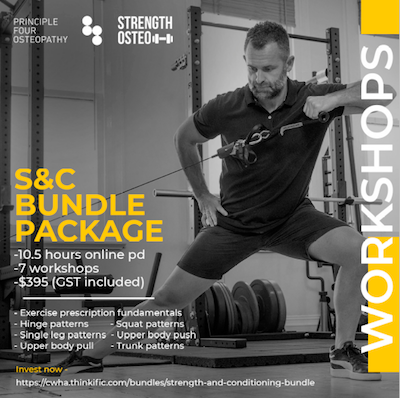 This bundle package contains 7 modules and is applicable to all allied health professionals who either prescribe exercise or want to start prescribing exercise as part of their everyday practice.
The bundle package reviews the fundamentals of exercise prescription and provides delegates with a contemporary approach to exercise prescription and how to adapt this to their client. This is suited to the client experiencing MSK complaints and/or has goals associated with return to sport/ work, activities of daily living and performance.
The 7 modules are based around the big patterns, including:
• 1. An Introduction to exercise prescription
• 2. Squat patterns
• 3. Hinging patterns
• 4. Pushing patterns (Horizontal and vertical)
• 5. Pulling patterns (Horizontal and vertical)
• 6. Single leg and lunging patterns
• 7. Trunk exercise strategies
Overall, this bundle package incorporates lectures and practical video demonstrations on how to modify, regress and progress the above exercise patterns. Conclude the modules by testing your knowledge with a quiz in each course, and gain a certificate of completion awarded for each course for your professional development hours.
Educators
Heath Williams is a registered osteopath and level 2 strength and conditioning coach (ASCA).   He has been working in private clinical practice since 2003 and active movement strategies are integral to his client consults. Heath lectured the osteopaths in exercise rehabilitation from 2011 – 2019.  He has also been delivering post graduate workshops for health professionals for many years.  
  He works with clients of all ages and conditions and most enjoys seeing clients improve their health and wellbeing and achieve their goals. 
   Find out more about Heath here
Jarrod Testa is a registered Osteopath, Exercise and Sports science graduate and Strength and Conditioning coach (ASCA Level 1). Jarrod has been involved in exercise prescription since his second year of his Exercise Science degree (2012), and in a more clinical setting as an Osteopath since 2019.
   Jarrod works with a diverse population, ranging from elite level powerlifters, to the general population. Jarrod also works with individuals in pain, and individuals looking to improve their movement efficiency.
   Find out more about Jarrod here
| | |
| --- | --- |
| OPS CPD Requirements | Learning include |
| Communication and patient partnership | Listening, respecting patient's concerns and preferences, dignity and modesty, effective communication, providing information, consent, patient partnership. |
| Knowledge, skills and performance | Having sufficient knowledge and skills, working within training and competence, keeping up to date, analysing and reflecting on information to enhance patient care. |
| Safety and quality in practice | Patient evaluation, management, safeguarding, wider role in enhancing patients' health and wellbeing. |
News
New title by Dr. Lederman
Available Now
The Myth of Core Stability
now available in hungarian - A core-stabilitás mítosza
OsteoForm (Portugal)
Interviewing Prof. Eyal Lederman about Functional Exercise Prescription
CPDO at Home
Online CPD - Providing CPD points for
Learning with Others &
Self Directed Learning
- Pay as you go
- No subscription fees
- Now available
Process Approach article now available in Italian

Process Approach
BCOM lecture notes PDF
Dr. Eyal Lederman (email registration required)
CPDO at Home Video
Leon Chaitow & Laurie Hartman Comparison of Neck Management
(Free registration)
50% Student Discount
on many courses
A Process model in Manual and Physical Therapies
Article by Dr. Eyal Lederman
The Myth of Core Stability
Interview with Dr. Eyal Lederman
New title by Dr. Lederman
Read preface
& chapter 1
Neuromuscular Rehabilitation
by Dr. Lederman:
Special offer £25
Read excerpts
The myth of core stability
article by Dr. Eyal Lederman
free to download
Strength and Conditioning Exercise Prescription
CPD Hours: 10.5 Cost: $395 AUD (approx. £210)
Don't miss a future event.
Register here and we'll e-mail you.